NEW RELEASE
Awaken your inner goddess of love, beauty and pleasure with our handcrafted and spelled Aphrodite's Touch Oil!
SHOP NOW


Experience the power of custom deity rollers
Connect with and honour your deity through a one-of-a-kind, custom handmade deity roller! Use the roller on your skin, anoint candles and tools, or before meditation to experience the aromatherapy and magical benefits of a unique blend chosen specifically by your deity.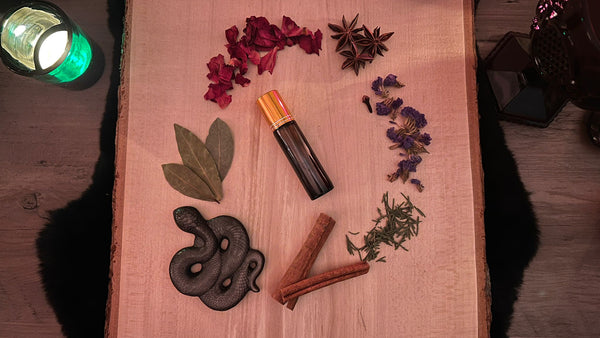 best seller

"Beyond impressed with Laurusa Mystic! Her stones and offerings are plentiful and always changing, her customer service is incredibly welcoming, sincere and full of gratitude and her overall experience is the reason I keep going back. Alyssa is the most genuine person, with such a passion and talent behind what she provides. Highly recommend her Instagram Story Sales (@laurusamystic), and if you're not sure of what you're looking for/needing, send her a message, she has something for everyone."

Krista M.
"Loved, loved, loved my [The Mountain] coaching session with Alyssa. She validated a number of things that I was experiencing. But the big one was something I've been called to more than once by a deity I'm working with and I really struggled making sense of it (most information out there is all over the place). She took the time to give me a game plan and set realistic expectations on what that means for me and balancing this with my life. It truly helped. She was fantastic to work with, and pleasure to talk to! 10 out of 10, highly recommend!"

Stephanie L.
"I've been a dedicated and delighted customer of Laurusa Mystic for more than a year. All her products are top quality and beautiful - it's like Xmas every time I open up one of her special and artistically wrapped packages Always willing to offer her time and wisdom, I definitely recommend Laurusa Mystic as a source for all things crystal, and so much more!"

Debbi G.
"Laurusa Mystic is an incredible small business that is owned and operated by a passionate and upbeat individual. Laurusa Mystic works hard to source and sell high quality crystals at competitive prices, and the services/readings offered by laurusamystic are very insightful and honest. As someone who is just dabbling into the world of spirit animals and learning how to communicate with my team, Laurusa Mystic has given me messages from my team that I needed to know, but couldn't connect to hear for myself. Thank you for helping me with my journey so far, and my crystal collection is always improving!"

Lojain M.